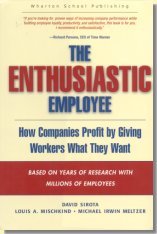 The Enthusiastic Employee: How Companies Profit by Giving Workers What They Want
Wharton School Publishing, January 2005
Enthusiastic employees outproduce and outperform. They step up to do the impossible. They rally each other in tough times. Most people are enthusiastic when they're hired: hopeful, ready to work hard, eager to contribute. What happens to dampen their enthusiasm? Management, that's what.
The Enthusiastic Employee draws on 30 years of research and experience to show you exactly what managers do wrong -- and what they should do instead.
Drawing on detailed case studies and employee attitude surveys in hundreds of companies, the authors offer research-proven solutions -- not fads, nostrums, or phony shortcuts. Along the way, you'll identify the dollars-and-cents business case for high employee morale, learn exactly what employee morale means, and discover the specific management practices that offer the greatest positive performance impact.
The definitive guide to encouraging, sustaining, and profiting from employee enthusiasm!
Techniques shown to increase employee performance 30-40% -- and increase stock performance, too!
Proven solutions, real data, not fads! Based on research with 2,500,000+ employees in 237 companies
Fairness, achievement, camaraderie: delivering the three core elements of a healthy workplace
Stop your organization's managers from demotivating your employees
Build a real partnership culture for the long term
hardcover | ISBN: 9780131423305 | Publication Date: January 2005
Reviews:
"I strongly recommend this book to anyone who is or wants to be a manager in business or elsewhere. The best parts of it -- and there are many -- simply give the words of ordinary workers and managers telling you what they like and don't like about their jobs. They will almost certainly surprise you."
--Donald E. Graham, Chairman of the Board, The Washington Post Company
"The Enthusiastic Employee is a breath of fresh air. David Sirota's insights -- drawn from his years of working with a variety of corporate cultures -- have helped our organization's multi-cultural management team build bridges and better understand the unique needs of our organization. This book provides practical insights into the relationship management should have with its employees." --Bill Taylor, President & CEO, Mercedes-Benz U.S. International
"Any manager who is trying to increase the performance of his organization ought to read this book. It is refreshingly devoid of buzzwords and magic formulas. Instead, it presents a coherent, common-sense framework, based on solid research, for thinking about what motivates and what de-motivates people at work, and then provides practical suggestions for handling everything from layoffs to incentive compensation." --Charles Rosotti, the immediate past Commissioner of the Internal Revenue Service and Senior Advisor of the Carlyle Group
"The Enthusiastic Employee provides universal learning -- for any organization, in any industry, in any country. The authors give us a wealth of ideas, insights, and case studies from the world's greatest companies on a wealth of management topics -- from setting the mission statement to providing performance feedback. Whether you are just starting out in management or are the CEO of a large multinational company, I know that you will find The Enthusiastic Employee to be extremely useful and truly inspiring." --Chris Gibson-Smith, Chairman, London Stock Exchange
"If you're looking for proven ways of increasing company performance while building employee loyalty, productivity and satisfaction, this book is for you. I recommend it enthusiastically." --Richard Parsons, CEO of Time Warner